Monday June 1, 2015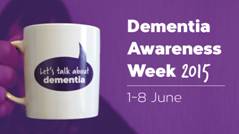 Today marks the beginning of Alzheimer Scotland's Dementia week, a national awareness week that aims to help people start having conversations about dementia. As part of this awareness week I am looking to help start these conversations by speaking to you every day this week.

This is my first ever blog and when I was told it would be a daily blog, my response was; I'm not interesting enough.  Luckily the blog will only be daily this week and monthly thereafter.

The benefits of writing to you directly will hopefully let you understand something about dementia that you didn't know, or even make you think about how dementia affects individuals in different ways.

Dementia is an area of work that I have dedicated my life to and I with my recent appointment to NHS Borders Dementia Nurse Consultant post I feel I can further develop the knowledge and skills of others in NHS Borders to ensuring that high standards of care are experiences wherever the care setting.

Every day this week, and monthly thereafter I will be blogging about dementia in the Borders, hence the suitability titled Dementia Downloads. I will be looking at what we are doing, what we are not doing, what we should be doing and what challenges are faced in light of these changes.

In addition I will be giving you examples of people with dementia living in the Borders and how their story can relate to how we can improve or adapt the care we provide and keeping you up to date with events and news on dementia.

Now that the scene has been set I should really stop putting this off.

Let's start at the beginning with what is dementia? And how can we recognise it?

Dementia describes a set of symptoms that may include memory loss and difficulties with thinking, problem solving or language. Dementia is caused when the brain is damaged by diseases, such as Alzheimer's disease or a series of strokes. The condition is progressive, meaning the symptoms will gradually get worse.
Diagnosing dementia is often difficult, particularly in the early stages. The GP is the first person to consult. The GP may then refer the person being diagnosed to a specialist such as a consultant.

Becoming forgetful does not necessarily mean that you have dementia. Many of us notice that our memory becomes less reliable as we get older. It can also be a symptom of stress or depression. In rare cases, dementia-like symptoms can be caused by vitamin deficiencies or a brain tumour.

Even if the diagnosis is dementia, there is lots that can be done after a diagnosis to support someone to live well with the condition.

For more information about dementia and Dementia Week please visit www.alzscot.org as a trusted resource.

Thanks for reading, drop by for the next download tomorrow.
Peter
Written by Peter Lerpiniere, NHS Borders Dementia Nurse Consultant