Tuesday June 2, 2015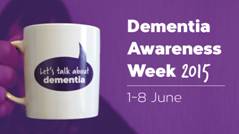 Dementia, and the difficulties it causes, makes it one of the most feared health conditions. People with dementia and their families are sometimes reluctant to seek advice when concerned about memory or other problems. But there are many potential benefits to getting medical advice if you're worried. Being diagnosed early is important for many reasons. It helps you to get the right treatments and to find the best sources of support, as well as to make decisions about the future.

Diagnosing dementia is often difficult, particularly in the early stages. Your GP is the first person to consult. The GP may then refer you to a specialist such as a consultant.

Caring for a patient with dementia in a hospital setting can add pressure to ward staff particularly if that ward is busy. However regardless of how busy a ward is, time and care should be taken with every patient with or without dementia to ensure that you are treated as an individual and your needs are met.

A SPSO Ombudsman report was published last week in regards to NHS Borders failing a dementia patient in 2012 at the Borders General Hospital. Some of the recommendations in the report surround how we did not meet the basic standards of care when it came to communicating with the patient and their family.

Talking to you and your family to understand what you need and want is a vital building block to providing the correct care, however when you are unable to tell the ward staff what you like or need, this can make a basis element more challenging to get right every time. There is no excuse for not getting this right.

One of the resources that NHS Borders staff are being encouraged to use is the Scottish Care 'Getting to Know Me' booklet for older patients with and without dementia to improve their hospital stay. The user friendly booklet is not just another form to complete, it's a fact sheet that informs staff caring for elderly patients in a hospital setting all they need to know about what matters to you if and when you are unable to tell them. The information includes for example how you like your tea in the morning or how you normally sleep until 10am and have a late breakfast every day.
It is important that the booklet is kept up to date and kept with you at all times so it can be referred to at a moment's notice. The booklet is available to view at http://www.scottishcare.org/docs/037_280__gettingtoknowme_1369954145.pdf.

For more information about Dementia and Dementia week please visit www.alzscot.org as a trusted resource.

Thanks for reading, drop by for the next download tomorrow.

Peter
Written by Peter Lerpiniere, NHS Borders Dementia Nurse Consultant