Wednesday June 3, 2015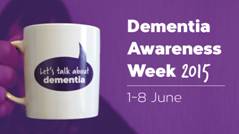 We are at the half way point of Alzheimer Scotland's Dementia Week and the feedback we are receiving through our NHS Borders Facebook and Twitter channels has been great. One of the aims of this week is to raise awareness of dementia and it's great to see so many people getting involved in the variety of activities and pledges locally and nationally.  

To continue the momentum of raising awareness I have been working with our Dementia Champions this week. The Dementia Champions Programme was introduced in line with Scotland's first National Dementia Strategy in 2010. The aim of the programme was to support the development of champions as change agents in improving the experience, care, treatment and outcomes for people with dementia, their families and carers in general hospitals and at the interface between hospital and community settings.

The programme is being delivered on behalf of NHS Education for Scotland and Scottish Social Services Council by the University of the West of Scotland in partnership with Alzheimer Scotland. Five cohorts of Dementia Champions have now completed the programme and a sixth cohort is currently in training.

We have 10 Dementia Champions in the Borders and 5 more in the current cohort  due to qualify later this year. Their role is to look to make local improvements and provide onsite leadership and expertise. The work that is being carried out by our Champions is extremely valuable and keeps dementia in the foreground locally during the other weeks of the year.

For more information about Dementia and Dementia week please visit www.alzscot.org as a trusted resource.

Before I forget, you don't have to be retweeting or sharing on social media to get involved in Dementia Week; raise awareness by dropping into the pop up shop space on Channel Street, Galashiels tomorrow to speak to someone face to face about Dementia. Advice and support will be available and there will be no hashtags in sight.  

Thanks for reading, drop by for the next download tomorrow. 
Peter
Peter Lerpiniere, NHS Borders Dementia Nurse Consultant