Thursday June 4, 2015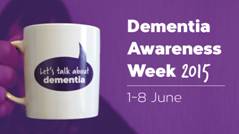 Dementia work is taking place across Scotland all the time with Dementia Awareness Week helping to bring some of this work to a wider audience.

Sharing best practices and ideas is something we should all do more of, one way of doing so on a national level is through Scotland's Dementia Awards.

Scotland's Dementia Awards are held annually and celebrate creative approaches, innovation and best practice in all aspects of information, advice, care and support for people with dementia, their carers, partners and families. It is a partnership between Alzheimer Scotland, NHS Education for Scotland, NHS Health Scotland and the Scottish Social Services Council.
If you work within the health, social care, independent or voluntary sectors in the support of people living with dementia, or if you are involved in education or training relating to this, why not enter at http://www.scotlandsdementiaawards.org.uk.

Entries for this year close tomorrow and we hope to see some local innovative work shortlisted later in the year.

One local initiative, co-ordinated in partnership with NHS Borders, Scottish Borders Council, Alzheimer Scotland and Borders Voluntary Care Voice is the Borders Dementia Working Group. The initiative will form part of the wider Scottish Dementia Working Group (SDWG) whose members all have diagnosis of dementia.

People with dementia in the Borders are invited to become members of this new group so they have an opportunity, firsthand to assist in making our services dementia friendly.

Successful groups like this are already being run elsewhere in Scotland and I'm delighted with the introduction of the Borders group.

The Borders Dementia Working Group (BDWG) will campaign to:
improve services
raise awareness
reduce prejudice and stigma
influence policies related to dementia both at both a local and national level.
For more information about Dementia and Dementia week please visit www.alzscot.org as a trusted resource.
Thanks for reading, drop by for the next download tomorrow.
Peter
Written by Peter Lerpiniere, NHS Borders Dementia Nurse Consultant