Friday June 5, 2015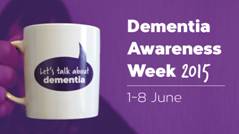 I always find the first line difficult, one always wants to start with something pithy and engaging, perhaps a clever quotation... "Memories are what give us roses in December"
Or a line from a song, "Memories are made of this".
Trite perhaps, but even in these little snippets dragged from the corner of my mind you can see the value of your memory. We have all had that experience where our memory has let us down, "It's on the tip of my tongue" is a phrase we all recognise and that experience of not being able to quite grasp a piece information we know we know can be the very definition of frustration. 
In dementia, memory loss is the most common symptom described. Think on, people with dementia often live with the things we take for granted on the tip of their tongue. The name of their husband or wife, the names of their children, where they live... it puts into perspective my misremembered lyric does it not?
I am writing today's blog while sitting at the foot of the stairs in the BGH. We have the "charity table" covered in leaflets and draped with bunting. The message for Dementia Awareness Week is "Let's talk about dementia" and since I got here this morning at 9am people haven't stopped talking. Patients, visitors, staff members, nurses, management, medical staff many of us have a story, a worry about a friend, a relative or ourselves.
During Dementia Awareness Week I have met with colleagues from NHS Borders, Scottish Borders Council, Carers Groups, Alzheimer's Scotland and the Scottish Government. While I am under no illusion about the challenges posed to services we have a better chance of getting it right if we talk to people about what works, so, to coin a phrase "Let's Talk About Dementia".

Thanks for reading my blogs this week; I will provide you with monthly updates from here on in, with the next Dementia Download by the end of June.  
Peter
Written by Peter Lerpiniere, NHS Borders Dementia Nurse Consultant