Friday August 12, 2016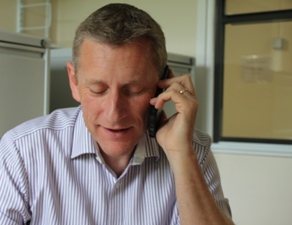 As Associate Director of Nursing for Primary, Acute and Community Services (the title being as big as the role), I cover a broad range of strategic, professional, practical and day to day operational challenges within NHS Borders. I work with a wide range of people every day, including staff and patients. No two days are the same and that's probably why time has flown since I joined NHS Borders nearly two years ago!
Firstly, I'm delighted to be asked by Evelyn to be her first guest blogger and would like to thank her for the opportunity to share my own personal NMC Revalidation journey. And, if I'm smart enough I will be able to use this blog as one of my five reflective pieces for my portfolio.
Revalidation is not new. Our Medical and Allied Health colleagues have been undertaking the process to evidence their ongoing professional practice for a number of years.  Fortunately the NMC are making the whole process as straight forward for us as possible to ensure all midwives and nurses in the UK maintain their registration with them.

My revalidation date is 1st December 2016, so what do I need to do before then?

NMC want me to demonstrate that I practise safely and effectively; that I can reflect on the role of the NMC code in my practice and demonstrate that I am 'living' the standards set out within it.

'Living' the standards? Of course I am, but how do I demonstrate something that is second nature to me?
Well, as a starter and amongst other things I am required to:
Log a minimum of 450 hours of practice relating to my original field of practice over three years - I work full time, this is not a cause for concern for me.
Log 35 hours of Continuing Professional Development (CPD) – this again is relatively straight forward for me as it includes both formal and informal learning. The trick here is that I need to improve how I keep a record of all my CPD opportunities and achievements. Revalidation is every three years so I need a system that will help me again in 2019!
And then there is the 'five written reflective accounts' bit. It's interesting to hear from others that they fear this part too.  There are lots of training materials available to make this process as easy as possible; however I am still stumped by this part.  As a nurse I have been taught that my patients come first, if I was to write five pieces about how they feel about the care that's provided to them that would be a breeze. However I'm being asked to write about myself, to brag almost, and to point out where I could have done things differently, and in some cases better. Being a nurse isn't about me it's about my patients, right? That's why it's so hard; it's a new way of thinking.
My tip for anyone revalidating soon is don't look at your revalidation date as a submission date, look at it as a 'last chance/worst case scenario date', if it's missed you can't practice!  
It's now the beginning of August and I am planning to finish my reflective accounts this weekend. It's important that I leave enough time for my 'confirmer' to review my portfolio and feedback to me with any comments.  My planned deadline for submission is 1st October – 60 days before my 'last chance' deadline date.
So if you see me, feel free to ask me how I'm getting on.
Charlie