An Evening of Winners at NHS Borders Staff Awards
Springwood Park was the venue for the second NHS Borders staff awards event last Saturday night, May 2nd 2015. Fittingly entitled 'Celebrating Excellence', the evening, which was hosted by Radio Borders Drive Time presenter Iain Waugh, was a celebration of dedication, clinical excellence and person-centred care.
The proud winners were announced as:
Chairman's Award 2015: Margaret Kerr Unit and the Specialist Palliative Care Team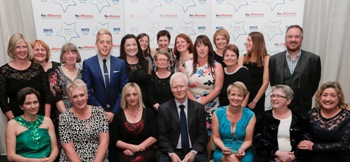 The Chairman's Award 2015 was awarded to the Margaret Kerr Unit and the Specialist Palliative Care Team to recognise their outstanding contribution to the organisation, for upholding the NHS Borders values and for demonstrating true excellence.  
Clinical Excellence: East Brigs Nursing Staff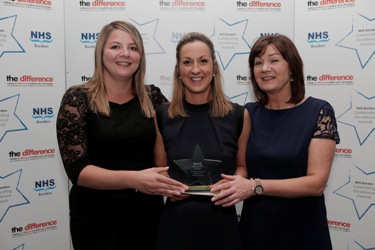 The Clinical Excellence award recognises an individual or team who demonstrates initiative and personal motivation to provide exceptionally high quality and safe care.
The winning team from East Brigs represented the first ward in NHS Borders to undertake innovative small tests of change to improve their work in risk assessment and safety planning as part of the Scottish Patient Safety Programme.   The staff team have worked extremely hard to ensure that patients feel safe in the ward and that any risks of harm are reduced whilst involving them in their care and making sure it is person centred.

Innovation and Improvement: Borders Emergency Care Service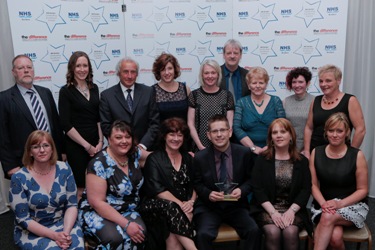 The Innovation and Improvement award recognises an individual or team who has implemented changes, through inspired, creative or original thinking, which have improved the experience of patients, families and carers, or colleagues.
The winning Borders Emergency Care Service (BECS) have consistently sought creative solutions to the current challenges of delivering a high quality, safe unscheduled care service and has identified short and long term solutions, redesigning the service to create a sustainable model for the future. 
Person-centred Care: Community Children Nursing Team
The Person Centred Care award recognises an individual or team who deliver high quality care while being responsive to individual needs and preferences.  They are open and honest with service users and treat everyone with care, compassion, dignity and respect.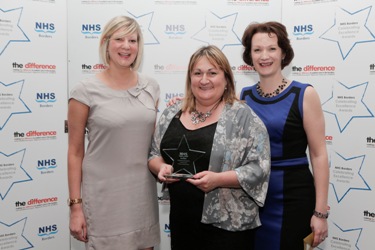 The winner, the Community Children's Nursing Team provide care for children at home and in their wider community.  They provide a wide range of care options related to each child's individual needs and provide a service that covers children with life-threatening or terminal conditions, complex healthcare needs, acute illnesses/conditions and chronic conditions.


Behind the scenes: Clinical: Dr Roddy Campbell

The Behind the scenes: Clinical award recognises an individual or team who may be out of the limelight but who provide invaluable support to frontline services or colleagues in other teams.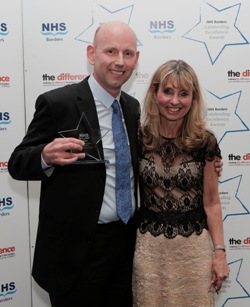 As Director of Medical Education, Dr Roddy Campbell has overseen improvements in the facilities, support and educational provision available to medical students and foundation doctors here in NHS Borders.  He has managed the creation of the only dedicated medical education facility in NHS Borders – the Archie Cochrane Medical Education Room in the Library.   All his efforts have made a significant positive impact on the experience of medical students and doctors in training in NHS Borders.

Behind the scenes: Non clinical: Grant Laidlaw (Commissioning Project Manager)

The Behind the scenes: Non clinical award recognises a non-clinical individual or team who may be out of the limelight but who provide invaluable support to frontline services or colleagues in other teams.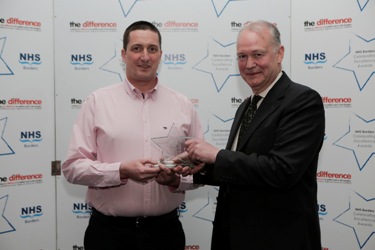 The winner, Grant Laidlaw, is NHS Borders Commissioning Project Manager who has set up a referral redirection process and in doing so provides invaluable advice, guidance and support to Patients, GPs, Consultants and other providers on the services that NHS Borders provides.  The impact of Grant's work has been a significant reduction in the number of non-tertiary referrals being sent to other providers, ultimately ensuring that services in the Borders remain sustainable for the Borders population.
Improving Health: Community Food Workers
The Improving Health Award recognises an individual or team who have made a real contribution to improving the health of colleagues or members of the wider public, or are helping people take control of their own health.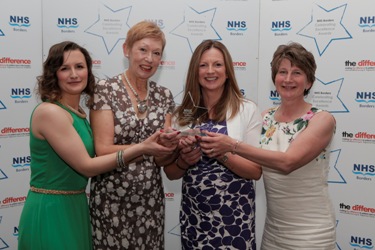 The winning Community Food Workers team is made up of four Community Food Workers who develop and deliver a range of practical food based initiatives to promote the importance of healthy eating.  The sessions delivered support families by enabling them to make positive choices & make sense of the vast array of food advice and dietary recommendations in a fun and non threatening way.  They help promote a healthy lifestyle & support schools to deliver health and wellbeing in a hands on practical way.


Supporter of the Year: James Marjoribanks (volunteer chair of the difference)
The Supporter of the year award recognises an individual or team who volunteer or support the organisation, provide an outstanding service and have shown exceptional commitment to supporting the work of NHS Borders.
Winner James Marjoribanks, as Chairman of 'the difference' James has been heavily involved in fundraising for the Dialysis Unit, Children's Ward, The Lavender Touch and the most recent appeal which raised the £4.1 million for the Margaret Kerr Unit.   Everything that James does is in addition to his day job as an accountant in Galashiels. His unselfishness and commitment to 'the difference' and the work of NHS Borders is outstanding.


Pictured are Euan and Scott Marjoribanks accepting the award on behalf of James.
Rising Star: Marie Morrison (Student Nurse, East Brigs)
The Rising Star, Marie Morrison is an individual who in the course of her studies or work placement has shown impressive dedication and commitment to furthering themselves and supporting the work of NHS Borders. Marie Morrison, a Student Nurse, East Brigs Marie is a mental health student with the Open University and is based at East Brigs.
She has shown herself to be dedicated and committed to her nursing studies. She goes above and beyond what is expected of a student nurse and as well as working all the hours allocated in her course, she has arranged days in addition to shadow other members of the multidisciplinary team to gain insight into their role and how the different disciplines mesh. 
Leading by Example:Linda Gray (Physiotherapist)
The Leading by Example award recognises an individual who has demonstrated excellent leadership skills by showing genuine concern for others, mentoring or supporting and enabling the development of people and services and inspiring and motivating others to be the best they can be.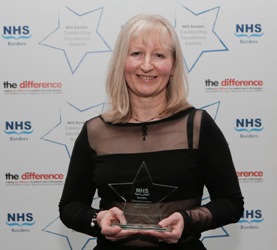 The winner Linda Gray, Physiotherapist has worked in NHS Borders for over 22 years. Linda has consistently surpassed expectations in her pursuit of professional excellence, she has modelled exemplary leadership, and she strives to improve the experience of patients, colleagues and students. Linda's calm and compassionate manner ensure staff feel at ease and valued as she organises the busy Physiotherapy work environment with grace and skill, while also meeting her day-to-day responsibilities.
Partnership Working:Dr Olive Herlihy (Consultant Physician)
The Partnership Working award recognises an individual or team who has exemplified partnership working to ensure service development or improvement.
In 2012 Dr Olive Herlihy collaborated with Medical Education leads in NHS Lothian & NHS Fife to pilot a standardised induction programme.  In August 2014 the programme was rolled out across NHS Borders, NHS Lothian & NHS Fife for Foundation Year 1 doctors in the form of the South East Scotland Virtual Induction Passport.  Dr Herlihy is overseeing the roll out of this innovative partnership to all doctors in NHS Borders, including locums, from August 2015, which will result in a consistent, efficient & safe induction that benefits everyone but ultimately the patients.


Reflecting on the success of the evening, Chairman of NHS Borders, John Raine said "Saturday night was a very special night for NHS Borders, our staff, partners, volunteers and invited guests. All of the finalists and winners were so very proud and indeed humbled to have been nominated and recognised for what they consider to be simply doing their job.

"I would like to take this opportunity to thank everyone who nominated and contributed to making the evening such a success. This was the second Celebrating Excellence Awards and it is now firmly embedded in NHS Borders annual calendar of events, and I am already looking forward to next year."
Funding for the 'Celebrating Excellence' Awards was provided by the difference, Borders Health Board Endowment Funds, registered charity number SCO08225.