After a fantastic evening of celebration at Springwood Park on Saturday night we are delighted to announce the winners of the 2016 Celebrating Excellence Awards.
The proud winners this year were announced as:
Chairman's Award 2016: Huntlyburn Ward Team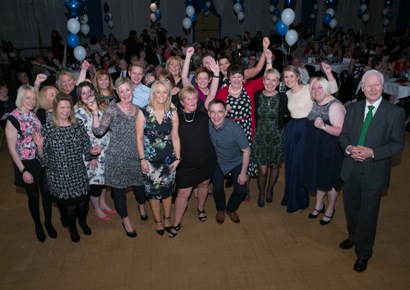 The Chairman's Award 2016 was awarded to the Huntlyburn Ward Team for their outstanding contribution to the organisation, for upholding our values and demonstrating true excellence.

Described by one of their patients as 'angels' the team create a sense of community on the ward, actively encourage patients to participate in activities to help their recovery and gain the trust and confidence of their 
patients through listening, reassuring and respecting their individual needs.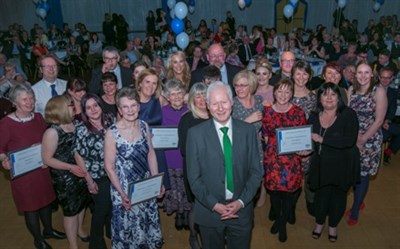 Also recognised on the evening were recipients of Chairman's Commendations – a new addition to the event, awarded to nominees who caught the eyes of the Chairman while he was selecting the winner of the Chairman's Award. The recipients were:
Mary Bishop, Patient Safety Assistant
Eilean Hogarth, Margaret Kerr Unit  Fundraiser
Costas Kontothanassis, Assistant General Manager P&CS and Contracts
Childsmile Team
Melburn Lodge Team
NHS Borders Values Award: Shona Finlay (Domestic)

A new award for 2016, the NHS Borders Values Award recognises an individual or team who demonstrate care, compassion, dignity and respect to patients, their families and carers as well as to their colleagues at all times. Awarded to Shona Finlay, a Domestic at the BGH who was described as outstanding, personable, dedicated and enthusiastic with a passion for performance. Hardworking, caring and compassionate. Shona is an empathetic person who always puts patients first, treating them with dignity and respect and shows staff how to embrace NHS Borders and her own values through leading by example.
Improving Health: Lifestyle Advisor Support Service (LASS)
The Improving Health Award recognises an individual or team who have made a real contribution to improving the health of colleagues or members of the wider public, or are helping people take control of their own health. The winning LASS Team take a patient-centred approach to encouraging lifestyle changes. They address health inequalities and offer tailored sessions which are underpinned by motivational interviewing and are described as an approachable, non judgmental and compassionate team committed to improving health in the Borders.
Innovation & Improvement: Dr Brian Magowan and SAFER Team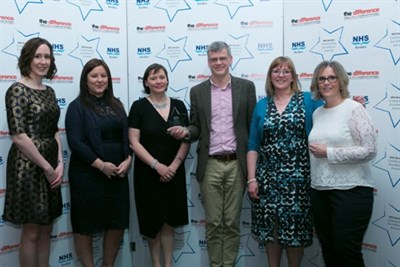 The Innovation and Improvement Award recognises an individual or team who have implemented change, through inspired, creative or original thinking, which has improved the experience of patients, families and carers, or colleagues.It was awarded to Dr Brian Magowan and the SAFER Team who havedesigned an electronic risk assessment tool called SAFER- which is an innovative way of keeping up to date information as pregnancies progress to support early identification and management of risk associated with pregnancy, in order to provide the best possible care to pregnant women.
Partnership Working: Irene Clark (Partnership Chair for Primary & Community)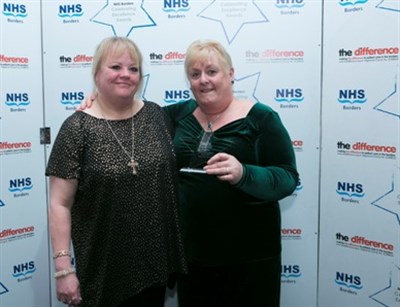 The Partnership Working Award recognises an individual or team who has exemplified partnership working to ensure service development or improvement, by working across boundaries within departments, across departments within NHS Borders or with other agencies. The worthy winner was Irene Clark, Chair of Primary Acute and Community Partnership Forum, who was described by her nominator as being passionate about partnership, recognising its value in all that she does. She includes partnership principles in all aspects of work including planning, learning and assessing and strives to provide a seamless 'one-stop-shop' service to the people she helps.
Leading by Example: Gillian Forbes (Borders Sexual Health Nurse Specialist)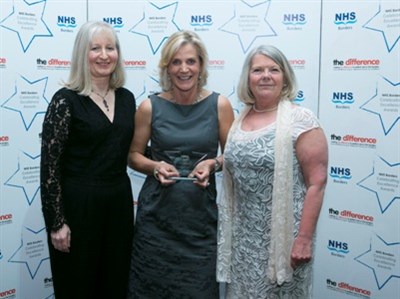 The Leading by Example Award recognises an individual who has demonstrated excellent leadership skills by showing genuine concern for others, mentoring or supporting and enabling the development of people and services and inspiring and motivating others to be the best they can be.  Gillian Forbes, a Nurse Specialist in the Sexual Health Service was the winner, and is described in her nomination as an inspiration to her team and someone who is held in the highest regard by all who work with her. Dedicated, enthusiastic, passionate and a boundless source of energy and enthusiasm. Innovative in her thinking and always exploring new ways to improve services.
Rising Star: Emma Govan (Social Worker)
The Rising Star Award was presented to an individual who in the course of their studies or work placement has shown impressive dedication and commitment to furthering themselves and supporting the work of NHS Borders.  Won by Social Worker Emma Govan, Emma has tenaciously pursued the self sponsorship route into social work which reflects her considerable commitment and determination to pursue her dream. She strives to "get it right" for everyone she works with and puts the person at the heart of everything she does.
Primary Care Provider of the Year: Dr Jane Savory (GP and Primary & Community Services GP Support)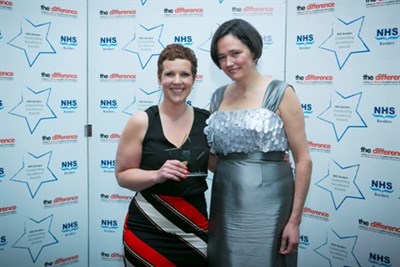 Another new award for 2016. the Primary Care Provider of the Year Award recognises an individual or a local team of independent contractors (i.e. a general practice, dental practice, optician or community pharmacy) who consistently deliver high quality person-centred care to their patients, liaise effectively with colleagues and demonstrate significant improvements in their local service. The winner was Dr Jane Savory, who as well as being an exemplary GP has spearheaded the development of "RefHelp" - an invaluable resource used by GPs throughout the Borders. Jane is helpful, cheery and takes on board feedback with enthusiasm and her nominator describes themselves as being lost without the resources contained within RefHelp.
Clinical Excellence: Margaret Davison (Assisted Birth Practitioner Midwife)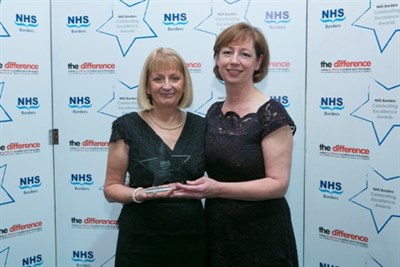 The Clinical Excellence Award recognises an individual or team who demonstrates initiative and personal motivation to provide exceptionally high quality and safe care.  The winner was Margaret Davison, whose extensive CV reflects her continuous drive and passion to push forward maternity services within NHS Borders. Her published work on the Assisted Birth Practitioner service is referred to at national level, and has been pivotal in encouraging other units to develop this model of care.
Supporter of the Year: Eilean Hogarth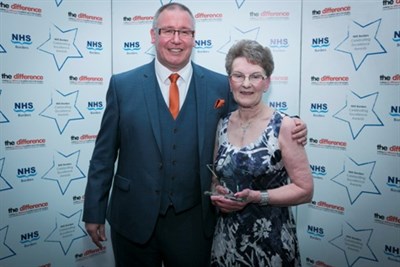 The Supporter of the Year Award recognises an individual or team who volunteer or support the organisation, provide an outstanding service and have shown exceptional commitment to supporting the work of NHS Borders. The winner was Eilean Hogarth, who in 2014 had an idea to establish a charity shop to benefit of the Margaret Kerr Unit and Palliative Care. She hoped it would raise £15,000 a year. In less than a year it had raised more than £60,000, all due to the vision and hard work of Eilean and her volunteers.
Behind the Scenes (Clinical): Infection Control Team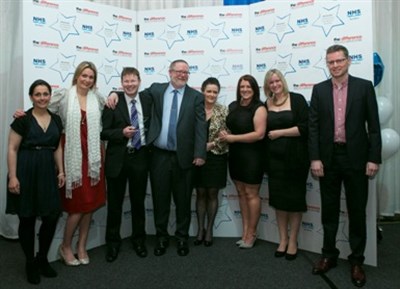 The Behind the Scenes: Clinical Award recognises an individual or team who may be out of the limelight but who provide invaluable support to frontline services or colleagues in other teams.  Worthy winners were the Infection Control Team - a team which provides invaluable support to services and colleagues across the organisation. They consistently provide a high quality, person centred service and are well organised, responsive and supportive of patients, their families and carers and colleagues.
Behind the Scenes (Non-Clinical): Alan Grainger (Telecommunications Engineer)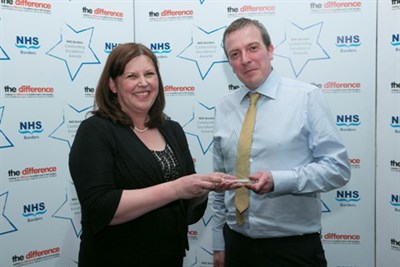 The Behind the Scenes: Non Clinical Award also recognises an individual or team who works in a non clinical role and provides invaluable support to frontline services or colleagues in other teams.  Telecommunications Engineer Alan Grainger was the winner. He is a behind the scenes hero of NHS Borders who undertakes his job in a competent professional manner, always with a cheery disposition. He is customer focussed, has excellent relationships with staff and regularly goes above and beyond the call of duty.
Person-Centred Care: Jake Cowan and Martin McAllister (Community LD Nurses)
The Person Centred Care Award recognises an individual or team who deliver high quality care while being responsive to individual needs and preferences.  They are open and honest with service users and treat everyone with care, compassion, dignity and respect. Nominated by members of the public, the winners Jake Cowan & Martin McAllister work in the Learning Disability Service, and have shown commitment, compassion and delivered care of the highest quality, knowing and understanding the needs and personality of their patient and how to help others help him. They were described in their nomination as having a continuous, caring presence.
Describing the evening as the 'best one yet', NHS Borders Chairman, John Raine said: "The Celebrating Excellence awards ceremony recognises the hard work, commitment and dedication of staff and volunteers across the organisation.

"It is also an opportunity for everyone to enjoy themselves and celebrate the care, compassion, dignity, respect and quality teamwork that takes place across NHS Borders every single day.

"It was very obvious on the night just how much it meant to the finalists and winners to be nominated by their colleagues or patients. I would like to congratulate once again all the nominees, finalists and winners and those involved in the organisation of such a fabulous event."
The Celebrating Excellence awards are based on NHS Borders Corporate Objectives and the values that underpin them.
Our Corporate Objectives:
Deliver safe, effective and high quality services.
Improve the health of our population.
Promote excellence in our organisational behaviour.
Our values:
Dignity and Respect
Quality and Teamwork
Openness, Honesty and Responsibility
Care and Compassion
Funding for the 'Celebrating Excellence' Awards was provided by the difference, Borders Health Board Endowment Funds, registered charity number SC008225