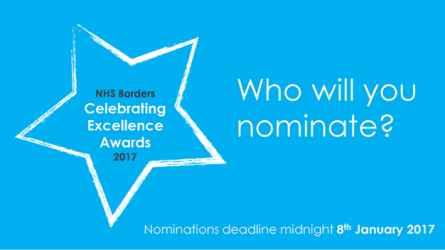 Nominations for the fourth annual NHS Borders Celebrating Excellence awards are now open and we are once again looking for your nominations.
The Celebrating Excellence awards show recognition and appreciation for the hard-work, dedication and commitment to providing excellent services demonstrated by our staff and by volunteers. The award categories reflect NHS Borders values and will celebrate individuals and teams who have worked hard to uphold these.
Encouraging people to submit a nomination, Chairman of NHS Borders, John Raine said; "Providing excellent patient care is what we strive to do every day.
"So far this year we have received more than two thousand commendations from patients, families and carers about the care they have received in the BGH, community hospitals and from other services provided across our communities such as mental health.
"I am often told by people who I meet that NHS staff do not receive appropriate recognition for the hard work that they do. Whilst I can give my assurance to these people that all the feedback we receive, both positive and negative, is shared with the relevant staff, if you wish to recognise the care that you or a loved one has received, nominating in our Celebrating Excellence staff awards is an excellent opportunity for you to do so.
"Seeing what it means to someone when their name is announced as a finalist or a winner at the awards ceremony is heart warming and inspirational – one of the highlights of my year."
Nominations from the public are welcomed in the following award categories:

Person-centred Care
An individual or team who deliver high quality care while being responsive to individual needs and preferences.  They are open and honest with service users and treat everyone with care, compassion, dignity and respect.
The Person-centred Care award is sponsored by Border Eggs a family-run farm located near Chirnside in the Scottish Borders supplying the finest quality organic free-range eggs to local businesses and directly to the public at their farm gate.  

Primary Care Provider of the Year
A local team of independent contractors or an individual (i.e. a general practice, dental practice, optician or community pharmacy) which has consistently delivered high quality person-centred care to their patients. This team or individual will liaise effectively with colleagues and demonstrate significant improvements in their local services.
The Primary Care Provider of the Year award is sponsored by AgenorTechnology, a consulting services company and cloud-based software solution provider based in Scotland.

Supporter of the Year
An individual or team who volunteer or support the organisation (for example through fundraising), or provide an outstanding service, and have shown exceptional commitment to supporting NHS Borders.
The Supporter of the Year award is sponsored by Hogg and ThorburnChartered Accountants, Tax Specialists and Business Advisors with over 75 years experience advising businesses. Unrivalled expertise not only in the Scottish Borders but throughout Scotland.

Rising Star
A young person who in the course of his or her studies or work placement (e.g. Junior Doctor, Student Nurse) has shown impressive dedication and commitment to furthering themselves and supporting the work of NHS Borders.
The Rising Star award is sponsored by Clelands Volvo, a friendly and professional family-run dealership which has been established in the Scottish Borders since 1989.

Nominations are open now and will close at midnight on January 8th 2017.
To nominate go to /celebratingexcellenceawards and click on nominate or phone 01896 825520 if you would like us to send you a paper copy of the application form.
The winners will be announced at an awards ceremony on Saturday April 29th 2017 at Springwood Park, Kelso.