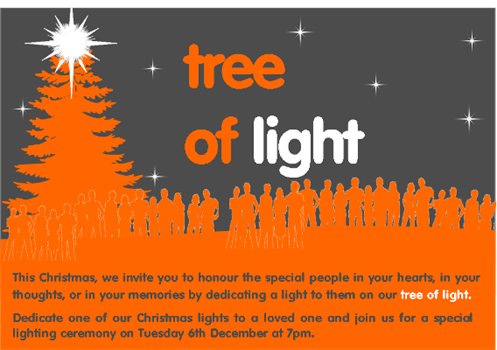 Christmas is a time of celebration but also a time of reflection. This year we are bringing a little festive spirit to NHS Borders with a special Christmas tree outside the Chaplaincy Centre at Borders General Hospital. We would like to invite you to dedicate a light on our tree of light either to honour those treasured people who have helped to light up your life or to mark a joyful event such as a wedding or a birth. Your dedication can be made to anyone regardless of whether you, or they, have had a connection with NHS Borders services.
It is a simple yet moving way of remembering those you love or have loved, and will also spread joy to the people who require some of our NHS Services this festive season.
For a donation of any amount you can dedicate a light, or several lights, on our tree as your very own personal and unique tribute.  Each dedication will be acknowledged with an electronic card you can share with family and friends and where we have permission to do so, we will list the dedications on our website.  Your donation will support  "The Difference" (Borders Health Board Endowment Funds, Reg. No. SC008225) to make the difference to patient care in the Borders by supporting projects and initiatives across our region that enhance our services or improve patient environments.
Our Tree of Light is now shining outside the Chaplaincy at Borders General Hospital following our lighting ceremony on Tuesday 6th December.  The tree will be up until after Christmas so there is still time to make your dedication on our Tree of Light.
To dedicate a light today, please click here - (open in Google Chrome)
This is our first year but we hope in years to come to have a Tree Of Light in other community locations.
For more information on the difference please visit our fundraising page.