When it comes to highlighting all the great work of NHS Borders staff across the region, nobody is better at getting the message over than Sam Laurie, Communications Assistant at NHS Borders, and she now has the trophy to prove it.
Sam, 28, from Galashiels, recently picked up the Young Achiever award at this year's NHS Scotland Communications Awards, held at BT Murrayfield.
The former Galashiels Academy pupil went straight from secondary education to working for NHS Borders when she joined its payroll department.
Nine years later she made the switch to the Communications Team and, despite only being in the role for two years, has proved herself more than capable of handling anything thrown her way.
Sam beat off fierce competition to land the post of Communications Assistant and since her appointment, has risen to numerous challenges involved in the post.
Sam is committed to supporting the work of the organization, shows dedication and commitment to furthering herself and NHS Borders and carries out her work in line with its values, demonstrating person-centredness, openness, honesty and responsibility.
Sam has hit the ground running in her new career and can be trusted to manage many situations, remaining calm and focused on achieving the goal.
John Raine, chairman of NHS Borders, commented: "This is an excellent and well deserved national recognition of Sam's impressive work and the importance attached by the Board to having good communications with the people of the Borders and within the organization."
For her part, Sam says she felt incredibly honoured to have won the prestigious award:
"Communications and PR have always been a passion of mine, one that I am now fortunate enough to do every day as a career.
"The whole day was brilliant; the development sessions in the morning were really interesting and inspirational and the awards ceremony in the afternoon was lovely.
"It is always nice to hear all the great work that people are doing in the industry and even nicer to be recognised."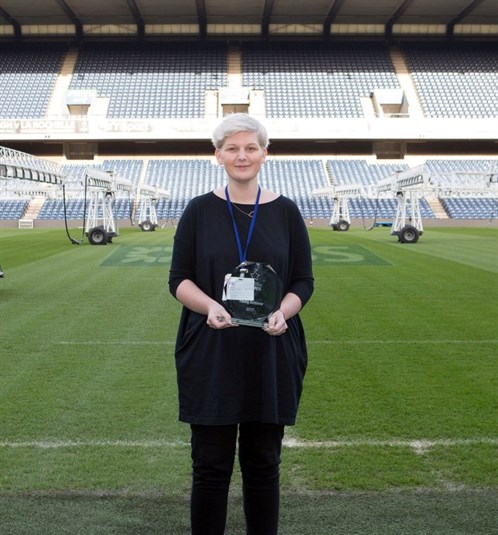 Pictured above: Sam Laurie at NHS Scotland Communications Awards held at BT Murrayfield