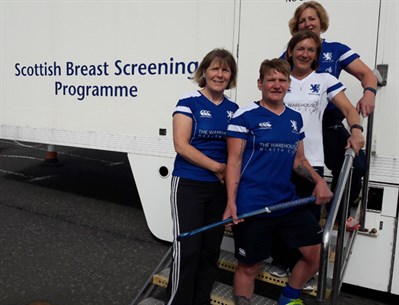 From left: Moira Anderson, Jackie Wilson, Carolyn Allison and Janet Jack at the Scottish Breast Screening Programme's mobile unit at Galashiels Health Centre
NHS Borders has teamed up with four of the region's best known hockey players to help highlight the importance of women registered as patients with a Galashiels medical practice, and who have received letters of appointment with the Mobile Breast Screening Unit, of keeping those appointments or phoning to re-book if they have been unable to attend.
There is still time to re-book a missed appointment as the Breast Screening Mobile Unit is currently based at the rear of the Galashiels Health Centre until the first week of July 2017.
The Mobile Screening Unit will visit a number of locations across the Borders over the coming year; but it will only return to Galashiels in three years' time.
And the importance of keeping appointments and re-booking if someone has been unable to attend was emphasised this week by Janet Jack (Ancrum); Jackie Wilson (Hawick), Carolyn Allison (Duns) - who all play in the over-50s level of the Scottish Women's Masters hockey series - and Moira Anderson (Duns), who plays in the over-60s level.
"I'd absolutely encourage every woman who gets a letter, even just for peace of mind, to ensure they keep their appointments with the screening unit or phone to rearrange it if they've been unable to attend," said Janet, a Borders and Scotland hockey legend with 172 Scotland caps and 17 Great Britain caps to her name.
Carolyn added: "The earlier something is detected, the better the chance is for treatment to be successful. This is something not to be messed about with - screening is a must for women who have been invited."
And Jackie added: "We are delighted to help publicise this vital service to local women and to stress the importance of attending appointments."
So if you live in Galashiels and have not managed to attend your breast screening appointment, call the Breast Screening Centre on 0131 537 7400 to book another appointment as soon as possible.
Supporting the breast screening campaign, all the GPs of the Waverley Medical Practice this week also stressed the importance of not missing appointments with the mobile screening unit.
In a statement, the Galashiels-based doctors said: "This round of breast screening has already detected early breast cancers, showing screening can save lives."
Julieann Brennan, NHS Borders Screening Co-ordinator, says it is important that all women who have received an invitation to attend for breast screening do so as it is an important part of being breast aware.
She added: "There is concern locally that some women who've been called for screening are not attending, which may leave them at a higher risk of not detecting breast cancer early. If cancer is detected in the early stages there is a much better chance of successful treatment.
"Please don't miss your chance to get checked in Galashiels. Screening saves lives."