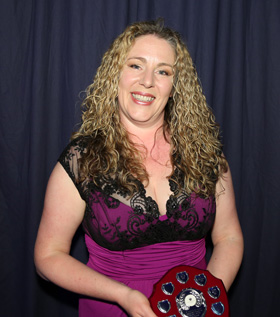 A theatre sister from Borders General Hospital has been recognised for her outstanding support of student learning by nursing staff and students at Queen Margaret University, Edinburgh.
At a glittering nursing award ceremony held on the university campus, Niki Smith, who works as a theatre sister at the BGH, was presented with the 'Dr Kathy Munro Award for Excellence in Supporting Student Learning in Practice 2017'. The award acknowledges Niki's role as an inspirational mentor of QMU nursing students, and her commitment to developing and nurturing the next generation of nurses into the healthcare profession.
Professor Brendan McCormack, Head of Division of Nursing, said: "We were delighted to have the chance to acknowledge the dedication which Niki has shown to the development of our QMU students by equipping them with essential practical skills and helping prepare them well for entering the nursing profession."
One third year student expressed her gratitude to Niki and explained the impact of her placement under the theatre sister's direction. She said: "I have never been given so many opportunities to practice my clinical skills and expand my theoretical knowledge. My mentor, Niki, educated and supported me throughout my time and encouraged me to undertake challenging clinical skills.
"As my mentor she made particular effort to ensure that not only my university required learning outcomes were met, but also that my individual interests were acknowledged. She arranged for me to go on visiting days with various members of specialist staff providing valuable learning opportunities.
"For the whole duration of my placement Niki ensured that staff knew who I was and asked of them that they teach me as if I were their student. This provided the greatest range of knowledge that I have ever been lucky enough to benefit from on clinical placement. I was always made to feel part of the team and my work was valued by fellow staff."
It was a number of former students who nominated Niki, a theatre nurse for the entire 27 years of her career and who has been with NHS Borders for the last 20 of those.
"The award came completely out of the blue and it's very nice to have your efforts recognised. I had a fantastic mentor of my own when I was training and it was that which made me not only want to be a theatre nurse, but also to one day go on to be a mentor myself," said Niki.
"I love teaching - it's one of my most favourite things and working in theatre gives you a great background in many aspects of nursing. In theatre every day is different."
Claire Pearce, Director of Nursing, Midwifery & Acute Services, NHS Borders, says she is delighted that Niki has been given the award: "It is vitally important that students' mentors support and lead learning on a daily basis, as it is the mentors in clinical practice who help shape the registered nurses of the future. There is a national shortage of theatre nurses, which makes it imperative that placements in theatres are positive learning environments for students as this may encourage students to consider a future in the theatre environment."
Professor McCormack concluded: "Niki is a shining example to all NHS staff who are involved in the development and education of new student nurses. Her input has not only made a positive impact on our students' learner journey, it has helped instil our nursing students with the confidence and skills they need to progress successfully through their degree and into the profession.