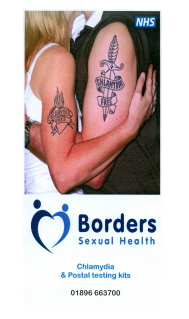 Why should you be worried about Chlamydia?
Chlamydia is passed from one person to another during sex
You can get Chlamydia at any age, but it is much more common in people under 25
In the Borders, about one person in 10 under the age of 25 has Chlamydia
About 80% of people with Chlamydia have no symptoms at all – so they don't know they have it
Chlamydia can lead to pelvic inflammatory disease in women.
The only way you know if you have Chlamydia is to get tested
Want to get a test?
Come to one of our clinics
Talk to a health adviser about Chlamydia on 01896 663700
PLEASE NOTE WE NO LONGER ISSUE POSTAL TESTING KITS FOR CHLAMYDIA
Find out more
An excellent (non-printable) Chlamydia leaflet from the Family Planning Association (FPA)
Documents
The printable leaflet we use in our clinic:

 Chlamydia Leaflet

 | Date created: Thu 03 Sep 2009 | File Size: 248 kb | File Time: 36 seconds @ 56 kbps
Description: Information on Chlamydia
Leaflets on Chlamydia in other languages:
Produced by the New South Wales Sexual Health unit.

 Chlamydia - Arabic

 | Date created: Mon 27 Aug 2007 | File Size: 128 kb | File Time: 18 seconds @ 56 kbps
Description: Information on Chlamydia translated in Arabic

 Chlamydia - Korean

 | Date created: Mon 27 Aug 2007 | File Size: 230 kb | File Time: 33 seconds @ 56 kbps
Description: Information on Chlamydia translated in Korean

 Chlamydia - Punjabi

 | Date created: Mon 27 Aug 2007 | File Size: 57 kb | File Time: 8 seconds @ 56 kbps
Description: Information on Chlamydia translated in Punjabi

 Chlamydia - Serbian

 | Date created: Mon 27 Aug 2007 | File Size: 56 kb | File Time: 8 seconds @ 56 kbps
Description: Information on Chlamydia translated in Serbian

 Chlamydia - Thai

 | Date created: Mon 27 Aug 2007 | File Size: 195 kb | File Time: 28 seconds @ 56 kbps
Description: Information on Chlamydia translated in Thai

 Chlamydia - Turkish

 | Date created: Mon 27 Aug 2007 | File Size: 88 kb | File Time: 12 seconds @ 56 kbps
Description: Information on Chlamydia translated in Turkish

 Chlamydia - Vietnamese

 | Date created: Mon 27 Aug 2007 | File Size: 57 kb | File Time: 8 seconds @ 56 kbps
Description: Information on Chlamydia translated in Vietnamese

 Chlamydia - Latvian

 | Date created: Mon 27 Aug 2007 | File Size: 179 kb | File Time: 26 seconds @ 56 kbps
Description: Information on Chlamydia translated in Latvian

 Chlamydia - French

 | Date created: Thu 03 Sep 2009 | File Size: 595 kb | File Time: 86 seconds @ 56 kbps
Description: Information on Chlamydia translated in French

 Chlamydia - Chinese

 | Date created: Thu 03 Sep 2009 | File Size: 1384 kb | File Time: 201 seconds @ 56 kbps
Description: Information on Chlamydia translated in Chinese

 Chlamydia - Polish

 | Date created: Thu 03 Sep 2009 | File Size: 153 kb | File Time: 22 seconds @ 56 kbps
Description: Information on Chlamydia translated in Polish

 Chlamydia - Spanish

 | Date created: Thu 03 Sep 2009 | File Size: 155 kb | File Time: 22 seconds @ 56 kbps
Description: Information on Chlamydia translated in Spanish

 Chlamydia - Bengali

 | Date created: Thu 03 Sep 2009 | File Size: 111 kb | File Time: 16 seconds @ 56 kbps
Description: Information on Chlamydia translated in Bengali

 Chlamydia - Hindi

 | Date created: Thu 03 Sep 2009 | File Size: 133 kb | File Time: 19 seconds @ 56 kbps
Description: Information on Chlamydia translated in Hindi

 Chlamydia - Lithuanian

 | Date created: Thu 03 Sep 2009 | File Size: 117 kb | File Time: 17 seconds @ 56 kbps
Description: Information on Chlamydia translated in Lithuanian

 Chlamydia - Russian

 | Date created: Thu 03 Sep 2009 | File Size: 155 kb | File Time: 22 seconds @ 56 kbps
Description: Information on Chlamydia translated in Russian

 Chlamydia - Urdu

 | Date created: Thu 03 Sep 2009 | File Size: 1183 kb | File Time: 172 seconds @ 56 kbps
Description: Information on Chlamydia translated in Urdu