About the health assessment
A health and wellbeing assessment is free and usually takes 45 minutes to 1 hour.
Your assessment is about your health and wellbeing and is designed to provide support and advice to help you make healthier lifestyle choices.
Your health assessment includes:
A physical check up to assess your risk of developing conditions like heart disease or diabetes
general questions about your health and lifestyle
information about health screening services
how to access support to change your lifestyle 
guidance on where to seek advice on money matters, welfare payments, employment and adult learning; and
an opportunity for you to ask about any other health related problems or worries you may have.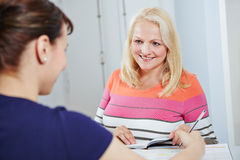 Follow up appointments
Your initial appointment can be followed by a number of 20 to 30 minute review sessions.  These follow up sessions are to maintain motivation and support you through your programme of change.
There is no fixed limit on the number of appointments each person has - although we recommend that you meet with a lifestyle adviser for up to 10 sessions, usually over 6-12 month period.  The number of sessions will of course depend on the needs of the individual.