Borders Macmillan Centre (BMC), Borders General Hospital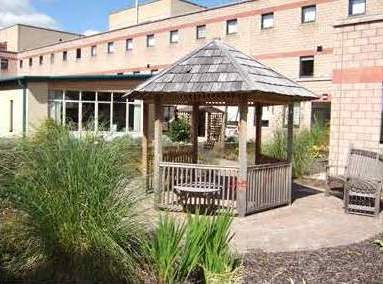 Services offered within the Macmillan Centre
The Borders Macmillan Centre provides Chemotherapy and cancer care services to all patients living within the Scottish Borders area.
The Centre is comprised of a Chemotherapy Administration Area, 2 Consultation Rooms, 3 Counselling Quiet Rooms and The Cancer Information Support Service with literature available within the large Reception/Waiting Area.
The Chemotherapy Area has 6 Recliner Chairs and 3 Beds which are all used on a rotational basis throughout each day for administration of Chemotherapy treatments. Approximately 16 to 20 patients are treated each day. Treatment work-up days are held on Monday's for all new patients about to undergo Chemotherapy and Treatments are administered 4 days per week, Tuesdays to Fridays.
Within the Centre are offices for the Cancer Clinical Nurse Specialists (CNS). The CNS's provide support, information and education for patients with a variety of different cancers (Colorectal, Hepatobiliary, Neuroendocrine Small Bowel, Breast, Lung and Urology). There is also a Stoma CNS and a Urology (Non cancer) CNS based within the Macmillan Centre.
The 2 consulting rooms are used by all the CNS's, Haematology Team and Visiting Oncologists on a regular daily basis where they review or treat patients.  The Charity, Lavender Touch, provide alternative relaxation therapies for patients within the Centre too.
There is a large reception/waiting area with the Quiet Rooms and Cancer Information and support Service (CISS) off this area. The Quiet Rooms are used when patients need to talk through worries or concerns with their CNS or CISS Staff. There is a large variety of information leaflets and booklets within the waiting area for patients or relatives to take.
How to access Borders Macmillan Centre
Anyone who has a diagnosis of cancer or any family member or friend wishing information or support can access the BMC and can drop in to obtain leaflets and booklets.
If the patients have a CNS within the centre they can ask for an appointment with them.
If the patients do not have a CNS within the centre then they can call the CISS service and arrange an appointment or be signposted to the appropriate person/place.
Other Info
Traditionally cancer patients have been told to rest but research by Macmillan Cancer Services has shown that being active before, during and after all cancer treatments can improve physical and emotional health and can also help minimise the side effects from the cancer treatments.
Macmillan Cancer Services and Live Borders have developed a programme called Move More Borders. Patients can be referred to this service to take part in a variety of activities to suit individual needs/likes. For more information, please click here.
Contact Details
Borders Macmillan Centre
BordersGeneralHospital
Melrose
TD6 9BS
01896 826888
25/11/16
Web URL: