Getting fit and staying fit.
First things first, you don't have to join a gym. Getting fit is so much easier (and cheaper) than that.
Just walking at a decent pace for half an hour, five days a week, will do wonders for your health and fitness. 3 lots of 10 minutes work just as well and make it easier to fit into everyday life.
You'll also be looking and feeling better. Either way, you'll be taking life on, one step at a time.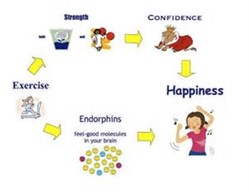 Looking for ways to get active, but not sure where to start? Active Scotland is there to get you going. Simply put your postcode or town in the search box and they'll find activities close to home, from easy to extreme. There are many ways to a more active life: choose a category for some new ideas, or explore the map and see what's available near you.
Macmillan Cancer Support also provide a programme called Move More. This is available to anyone who has had a cancer diagnosis in the last five years in the Borders and surrounding areas.
For more information contact:
Move More Borders
Live Borders
Melrose Road
Galashiels
TD1 2DU
Tel: 01896 661166 ext 311
Email: movemore@liveborders.org.uk