Working Health Matters
16/10/2017
Working Health Matters is a course organised by staff counsellors for NHS Borders staff.  It runs over five 2hr sessions and we ask that you attend each of the five sessions. The course is run approximately every 3 months.
Topics covered: staying well at home and at work, stress management, challenging unhelpful thoughts, assertiveness, improving sleep, time management.
Next course: Wednesday1st – 29th November 2017, 2pm-4pm.
To register interest please contact Occupational Health on 01896 825982.
Mindfulness Courses - Hawick
11/09/2017
Free taster evening
Monday 18th September 6.30–8.30pm 
Day workshop
Saturday 23rd September 10.30am–3.30pm
£15 or by donation  
8-week COURSES 
16 October & 29 January 2018 - Monday evenings
£130 (8 evening classes, 1 all-day session, all course materials)
SBC staff are offered a 10% discount on the Workshop and Course. 
Venue: The Cornucopia Room, 4 Towerdykeside, Hawick TD9 9EA
To find out more & book:
Please call Sara on 07738 098305 / 01450 218030
mindfulnessinhawick@gmail.com
Suicide Prevention Week
30/08/2017
Read between the lines' is the theme of this years' Suicide Prevention Awareness Week which runs from 4 – 10 September. It seeks to promote the involvement of whole communities in suicide prevention.
The focus of this year's campaign is to support the general public to look out for signs of suicidal intent in the people around them – friends, colleagues, family members or neighbours and encourage them to talk about how they feel. For more information please visit http://www.chooselife.net/ 
What matters to you?
31/05/2017
''What matters to you?' day is on 6th June. It aims to encourage and support more meaningful conversations between people who provide health and social care and the people, families and carers who receive health and social care.
If you work in health and social care take just 1 minute to talk to your patients or clients about their care and well-being.
A small change makes a big difference!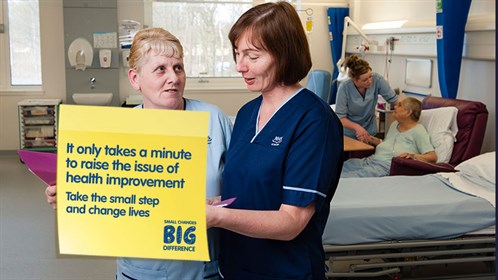 Adult Learners Week 2017
18/05/2017
Find out more about what's available on the Scottish Borders Council website.
Wendy's story
09/05/2017
Wendy then decided to be more active by building more walking into her everyday life. She used a fit bit to count her daily steps, achieving 10,000 steps a day more and more often.
Competing with a couple of friends who have fit bits has also helped her. She says, "In a rural area, swimming, gym, exercise classes are not accessible if you don't have a car and in the spring and summer walking is perfect for me, my dog and my purse!
Walk Leader Training
24/04/2017
Are you interested in a a new Walk Leader training course taking place on 27 April from 9.30am to 4pm at Melrose Corn Exchange?
The aim of this one day course is to help you gain the skills and confidence to lead safe, short, local health walks.   
The course is free of charge. You will become a registered Walk Leader for 'Walk It' and join the Scottish Database of certified walk leaders for 'Walk It'. 
'Walk It' is the Scottish Borders and NHS Borders walking project. It seeks to help people become more physically active by leading low level friendly walks across the Scottish Borders.
For further details, please  contact Denise Carmichael on 01835 826702 
Success Stories
11/04/2017
Cookery participation demonstrations
15/03/2017
Learn how to cook up some healthy, quick, nutritious dishes using fresh ingredients to help you eat well. Can't cook, won't cook? Whatever it is, the team will have you cooking some meals to take home from a delicious risotto to the classic omelette.
There are two workshops available with 12 spaces on each. Places will be allocated on a first come first served basis:
Venue: Earlston Primary School
Date: Monday 20 March 2017, 4-6pm
Venue: Peebles High School Kitchen
Date: Wednesday 22 March 2017, 4-6pm
To book a place contact Karen Rodgerson on 01835 825150 or at: krodgerson@scotborders.gov.uk 
Health and wellbeing clinics
22/02/2017
Staff health and wellbeing drop in clinics  
Wellbeing checks – sample a free confidential health check.Includes blood pressure, weight and cholesterol assessment.  All bookings will be on a first come first served basis.     
Lifestyle advice – find out about the lifestyle adviser support service, ask questions and make an appointment. This service could be of interest if you want to make some changes in your lifestyle but require some support to help you reach your goals.
Screening services – learn more out about the range of health screenings available. Make an appointment at one of our dedicated cervical smear clinics which are running during April.      
SBC HQ
Date: Thursday 2 March
Venue: SBC Canteen meeting room
Time: 11.30am – 2.30pm
Kelso
Date: Monday 20 March
Venue: Abbey Row Community centre (ground floor)
Time: 11.30am – 1.30pm
Cycle 2 work scheme 2017
23/01/2017
​This will be open to SBC and SB Cares staff from 1 February to 12 March and from 28 January to 12 February for NHS staff. You can choose from thousands of bikes and make savings on Tax and National Insurance. For more information, visit www.cycle2work.info, call 0345 504 6444. 
How to order your new bike
Bikes can be ordered through the Cycle 2 Work scheme which includes the following local stores in the Scottish Borders:
Galashiels – Halfords and Diamond Cycle Centre
Glentress – Alpine Bikes
Innerleithen – Alpine Bikes
Peebles - Bspoke Cycles
Kelso – Simon Porteous Cycles
Melrose – Hardies Bikes
If you want to get fitter and be more active in 2017, cycling is a good way to achieve this. And what's more you can reduce your carbon footprint by spending less time in your car!
Try something new in 2017
17/01/2017
New Year offers
If you work in SBC or SB Cares take first step to making a small change in your own routines or supporting your colleagues to make their own small changes? Sign up for the 'lifestyle challenge' or to be a 'workplace champion'!  
Lifestyle Challenge - Start 2017 by being one of 20 members of staff signing up to take part in a lifestyle challenge? You will be provided with free access to a lifestyle adviser, selected activities at LIVE Borders and a free pedometer. 
If you are interested in taking part in the lifestyle challenge, please provide us with a short email stating:
why you want to take part and what is motivating you to get involved?
what small change you wish to make you?.
Workplace champion - Could you be a SCBD champion in your workplace setting? The first 25 applicants will receive a free LIVE Borders pass for either 12 fitness classes or 8 weeks of gym and swim classes. In return, are you willing to champion the campaign in your work area, encourage others to join in, share your story or pledge to make a change or support others to change? 
If you are keen to be a 'workplace champion', please provide us with a short email stating:
why you want to be workplace champion and what is motivating you to get involved?
How you plan to support work colleagues get involved in the 'Small Changes, Big Difference' campaign?
Get your applications in by 20 January 2017 to SCBD@borders.scot.nhs.uk
'Small Changes, Big Difference' to launch in SBC and SB Cares
28/11/2016
'Small Changes, Big Difference' supports people across the Borders to improve and maintain their health and wellbeing.
The campaign was launched by NHS Borders in October 2015 and proved to be extremely successful; winning an award in 2016. It is being extended to Scottish Borders Council (SBC) and SB Cares staff in 2017, giving them the chance to experience the same benefits.
At the heart of the campaign is the idea that making small changes to your lifestyle can achieve significant results. By making small and manageable changes to your routine you are far more likely to be able to keep going, be successful and get more lasting results.
Getting involved in 'Small Changes, Big Difference' can give you the inspiration to make that all-important first step to feeling good about yourself and improving your wellbeing.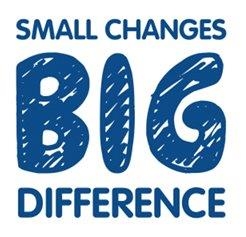 Health Literacy Month
25/10/2016
October is health literacy month!  Health literacy is about understanding health and checking if we have understood each other when talking about health. Find out more at the Health Literacy Place
Find out more at the Health Literacy Place 
NHS Borders Cycle Challenge
12/09/2016
NHS Borders will be running a Cycle Challenge from 5th –30th September. During this four week period staff are encouraged to get on their bikes and record the miles they cycle each day. If you already bike to work, cycle regularly or are looking for an opportunity to increase your physical activity then why not join up and take part.
If that's not for you, how about taking part in the Cycle to Work Challenge on the 14 September 2016.
To enter either the four week or one day NHS Borders challenge all you have to do is email hwl-enquiry@borders.scot.nhs.uk to register.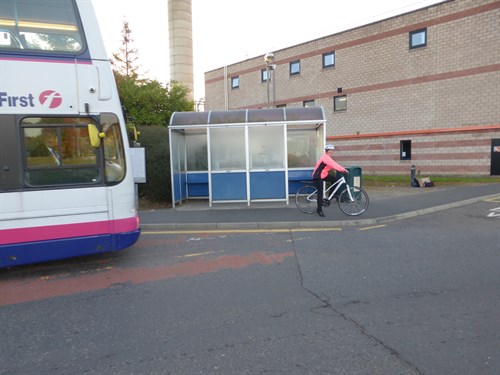 Sit Less, Get Active
10/03/2016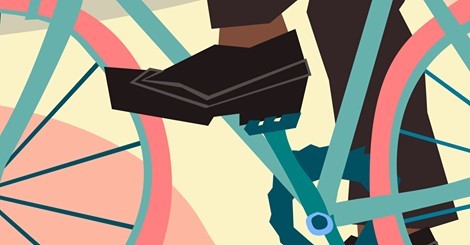 Sit Less, Get Active is a massive open online course (MOOC) created by the University of Edinburgh.
The main goal of the Sit Less, Get Active MOOC is to enable people to sit less and move more in various settings such as your community, home, work, or school. The course will show you how to sit less and be more active and help you learn how to monitor your activity, set realistic goals and give some suggestions on how to make activity a habit.
The course will start in May and it's 3 weeks long. The commitment will be no longer than one hour per week.
https://www.coursera.org/learn/get-active
Safer Drinking
15/02/2016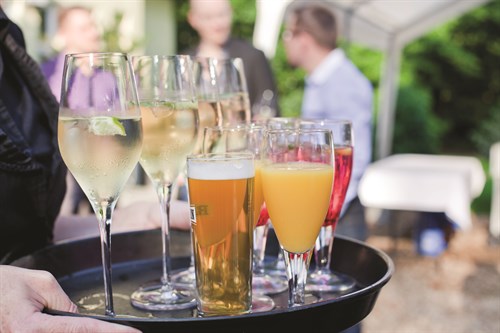 New guidelines have been developed to raise awareness of health risks from consuming alcohol. For men and women you are safest not to drink more than 14 units per week. Any reduction in alcohol consumption is a health benefit.