Between 1-7 August every year, to highlight of the benefits of breastfeeding and the need for global support, the World Alliance for Breastfeeding Action organises World Breastfeeding Week.
To mark the occasion on Friday 5th August and Saturday 6th August 2016 at 10:30am thousands of breastfeeding women and their babies/children across the world gathered in their own communities to take part in the Global Big Latch On, a synchronized breastfeeding event in multiple locations.
In support of this global event, NHS Borders hosted a local 'Big Latch On' event on Friday 5 August 2016 at the Pavilion Cricket pitch at the Borders General Hospital. The event was a huge success with a total of 90 people showing their support for breastfeeding. Of the 90 in attendance, 28 mums breastfed their babies in unison to help set the new world record along with another mums across the globe.
NHS Borders numbers were added to the world total; a new world record has been set with 17,223 children breastfeeding during the count which is over 2,000 more than last year.
Kirstin Worsley, Breastfeeding in the Borders (BiBS) Coordinator said: We would like to say a huge thank you to all the people who came to support the Borders event. These events help the Borders Community to positively support breastfeeding and are a great way for mums and babies to meet and make friends."
More information on Breast Feeding in the Borders (BiBS) can be found at www.nhsborders.scot.nhs.uk or search Borders Bumps Babies and Beyond on Facebook.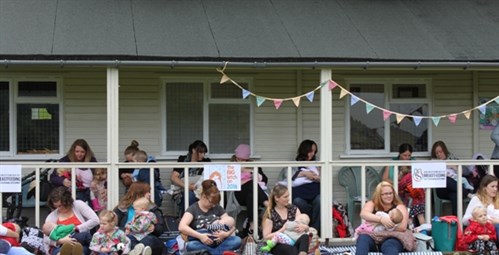 Pictured above: Mothers breastfeeding their babies during the 'Big Latch On' World Record event at the BGH