Almost 400,000 people in Scotland failed to attend their NHS appointments last year.

NHS Borders is launching a campaign today informing patients of the real cost of missing a scheduled appointment.

Although previously higher, approximately 5% of scheduled appointments in NHS Borders are still being missed without any notice being provided, these appointments are known as 'Did Not Attends'.

Not only are these 'Did Not Attends' extremely costly to our local health service, they can also have a detrimental effect on patients health.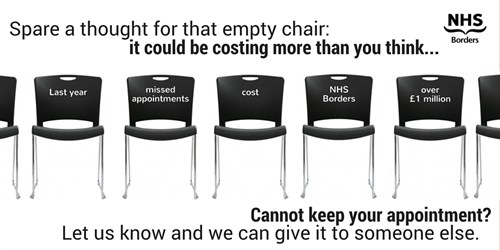 A single missed appointment costs in the region of £100 - for NHS Borders that equates to a staggering £1 million a year wasted on people who do not attend their appointments. Money that could have been spent on staffing, purchasing equipment and investing in local services.

Evelyn Rodger, Director of Nursing, Midwifery and Acute Services said: "There are many genuine reasons why you may not be able to attend your appointment, however by letting us know as soon as possible, you give us the opportunity to reschedule it for someone else."

"As part of the ''Spare a thought for that empty chair' campaign we are asking everyone to provide us with their most up to date contact details, including  a mobile number so we can invite and remind them to future appointments via text where appropriate. New leaflets will be included in all appointment letters during June to encourage attendance and to make it easier to update us with your mobile number."

She added: "It's important to remember that a missed appointment may also lead to you being referred back to your GP, potentially delaying your treatment time by up to twelve weeks.

"We will continue to do everything we can to remind you of your appointment. If you can't make it then please just let us know as soon as possible so that we can arrange to see you at a time that suits you and give your original appointment to someone else who is waiting."

Every effort is taken to fill a cancelled appointment however incorrect or out of date contact information can often cause difficulties when trying to contact someone else on short notice.
9976 appointments were missed between 1st April 2015 – 31st March 2016.
This total includes missed appointments from all acute specialties and missed appointments from Allied health professional services, such as occupational therapy, podiatry and speech and language therapy.
The cost of appointments has been broken down depending on what type of appointment has been missed:
4538 – Doctor led - £169 average cost per appointment
1606 – Nurse led -£26 average cost per appointment
3723 – Allied Health Professional - £66 average cost per appointment
109 – Miscellaneous at £169 average cost per appointment
Letting us know as soon as possible if you are not going to keep an appointment
Missing an appointment could mean missing out on important medical treatment, and can mean other people waiting longer.
Using the telephone number on your appointment letter please give us as much notice as possible so your appointment can then be offered to another patient, and you can be given an alternative if required.
The NHS Borders Patient Access Policy outlines the approach NHS Borders follows when booking appointments in terms of how much notice you can expect, the number and types of offers you can have. 
Reminder system
We want to help you remember your appointment. Between five to seven days before your appointment you will receive an automated voice message from 01896 820410 asking if you still plan to come for your appointment. You can use your telephone handset to tell us this.
As part of the security you will be asked to confirm your year of birth on your keypad.
If we have your mobile number, you will receive a text message the day before the clinic as a final reminder.
If you do not want to receive a reminder, please advise us using the telephone number on your appointment letter.