NHS Borders joined BordersCollege and Jobcentre Plus on Friday 21st October to celebrate the trainees who were successful in completing the four week Train to Gain administration programme as part of the NHSBordersSectorBasedWorkAcademy.

During the four week programme, seven participants completed NHS Borders Corporate Induction programme together with a full four week course organised by Borders College, which included work placements within NHS Borders and Scottish Borders Council.

At the end of the course all of the participants were interviewed for NHS Borders Administration bank staff roles.

Fiona Turnbull, Contracts Manager, Borders College said: "We are delighted with the continued success of this Skills Development Scotland funded programme and our partnership with NHS Borders and Job Centre Plus.  It is an excellent opportunity for the candidates to gain certificated training and work experience in their chosen area and to help them gain employment."

John McLaren, NHS Borders Employee Director presented the certificates to the participants at the graduation at BordersCollege and said: "This course provides an excellent opportunity for a number of unemployed local people to develop the desired knowledge and skills required to successfully gain employment. We run these programmes on a regular basis and once again we would like to thank the placement areas within NHS Borders for their support in making the programme a continued success."

For further information on how to apply for similar programmes please contact your local Job Centre Plus adviser.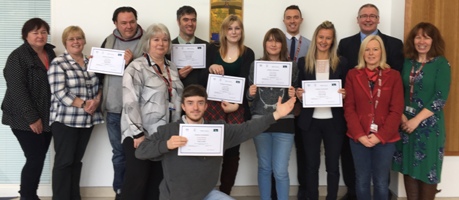 Six of the seven graduates pictures left to right: Keith Ponton, Gregory Theocharis, Caron Blane, Kirsty Martin, Fiona Beaton and Tristan Bathgate.