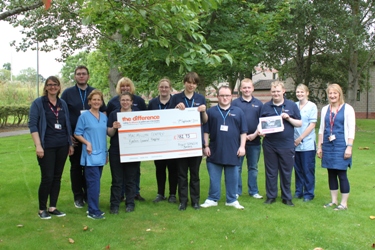 NHS Borders has joined forces with the Scottish Borders Council Employment Service, Joint Learning Disability Service and Borders College to welcome eight Interns into NHS Borders through a thirty nine week employment programme.

The employment-focussed educational programme began at NHS Borders at the end of September and it will see the interns rotate around various departments including Radiology, Catering and Child Health to name just a few. The aim of the programme is to provide them with rounded employability experience for them to take forward into future employment.

The Project SEARCH programme has been uniquely tailored for 17 – 24 year old students with learning disabilities and provides adequate support to each one of the interns on an individual, peer group and mentor level.

Julie Roberts, NHS Borders Business Liaison for Project SEARCH said: "We are delighted to welcome our first eight Project SEARCH interns into NHS Borders department. The Project SEARCH model began in Ohio, USA as a result of needing to recruit and retain staff for relatively routine, yet complex jobs with a positive success rate for full time employment for each of the interns. Through the Scottish Government's 'More Choices More chances' programme Project SEARCH is an excellent model for us to use and is allowing us to invest in the future workforce of NHS Borders.

All the interns were keen to get started and have been busy raising awareness of the programme by hosting a bake sale at the BGH that raised £182.73 for Borders Macmillian Cancer Centre at the Borders General Hospital.  They are also posting regular updates on their designated Facebook page. If you are interested in meeting the interns and finding out more about Project SEARCH please visit www.nhsborders.scot.nhs.uk/projectsearch or www.facebook.com/projectsearchborders.