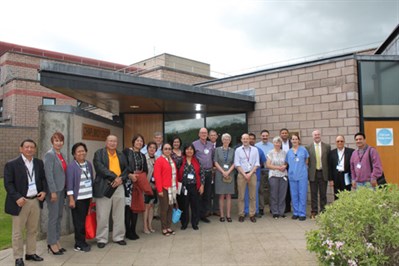 Borders General Hospital (BGH) received praise from the Scottish Government for hosting an excellent Orthopaedic Peer Review visit this summer. Sincere thanks were given by the Scottish Government's Directorate of Health Performance and Delivery. These were shared with BGH staff whose "preparation, presentation, leading discussion on the day and evidence of team work were all very good."
During the Peer Review Visit Scottish Government representatives were impressed with many of the working practices in the Orthopaedic Department.
The department recently hosted an international study visit on behalf of the BGH for the Royal College of Surgeons of Edinburgh, which saw 14 of the most eminent doctors and medical school staff from the Philippines spending a day with a number of our local medics. The visit showcased how we deliver good medical education locally in the Borders.
The delegates came as part of a six-day study visit to the UK and were welcomed to the BGH on Friday 2 June, the third day of their tour. Our visitors from the Philippines took in a seminar on the medical training provided within the hospital, the learning resources available and met with local trainees.
In many parts of the Philippines there is no access to a local doctor at all, as after their training in the medical schools in the country's main cities, the majority of new doctors in the Philippines tend to remain in those same cities, many entering private practice.
Rex Madrigal, President of the Philippine Society of General Surgeons, said: "It is a priority to be able to rotate trainee doctors out to the country's provinces using a similar system to that operating in Scotland. We came to Scotland to look at managing medical residency and how we are managing medical education."
Dr Max Simbulan, Past President of Philippine College of Surgeons, commented: "The problem we have in the Philippines is that there are lots of areas which don't even have a doctor at GP level. What we have is a staffing challenge, centred round the distribution of doctors and this visit is about looking at ways of addressing that issue."
Ali Mehdi, Consultant Orthopaedic Surgeon at NHS Borders, said: "I thought the delegates were very impressed with both the system of training and with the BGH itself. In fact, they were very impressed by the whole culture of training here at the BGH and this was a great opportunity to showcase our hospital to the most senior doctors in the Philippines.
"I also think the fact that we were chosen by the Royal College of Surgeons as a good example of a district general hospital is a great compliment to all the staff who work here."
Jane Montgomery, Consultant Anaesthetist & Director of Medical Education at NHS Borders, commented: "Our visitors from the Philippines were interested in the objective of national recruitment and how and when the trainees were rotated to different types of hospital."