Eighteen months of study by two NHS Borders pharmacists has been recognised by Scotland's Chief Pharmaceutical Officer, Rose Marie Parr, at a graduation event in Edinburgh. Professor Parr said she was really excited by the potential of all the 23 future leaders from across Scotland who completed the course.
The event marked the completion of the Pharmacy Management Clinical Leadership in Pharmacy programme, which involved the participants in a structured framework of twelve taught days, made up of eight single days and two two-day residential courses. A further core part of the programme was the completion by each of the pharmacists of a mentored workplace-based healthcare improvement project.
Borders programme graduates, Lead Clinical Pharmacist Cathryn Park and Adrian Mackenzie, Lead Pharmacist, Community and Social Care, received their certificates at the event in Edinburgh.
NHS Borders Director of Pharmacy, Alison Wilson, who supported their involvement in the programme, was on hand at the ceremony to congratulate them.
The programme was devised by Pharmacy Management whose Chief Executive, John Stanley, says its success lies in bringing together clinicians from different parts of Scotland and different disciplines:
"By working alongside colleagues from across Scotland, the Clinical Leadership in Pharmacy programme encouraged the pharmacists involved to learn from their peers through sharing experiences, challenging each other and developing productive, professional networks.
"Because we received grant funding from pharmaceutical companies, who could each send one delegate but could not influence the programme, we are able to offer places free of charge to pharmacists nominated by their Boards.
"We have all been struck by the passion that has been shown throughout by this first cohort of future clinical leaders in pharmacy in Scotland. We look forward to running similar programmes again in coming years."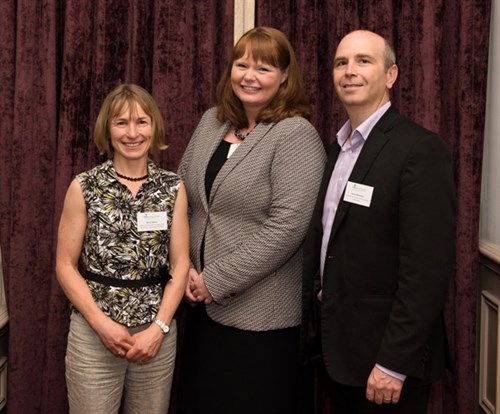 Pictured above (L-R): Alison Wilson, Cathryn Park, Adrian Mackenzie