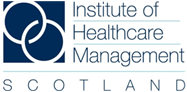 Do you know a Manager who has gone above and beyond….… to make sure that services to patients are the best they can be?
Do you know a Manager who is an excellent leader……. who makes sure that their staff are always able to do their best?
Do you know a Manager who should be more widely recognised for their excellence?
 
If you do, let them know –
 Who they are - name, address and present managerial position


 What they have done that's special – some examples of their excellent  management practice


 What difference this has made to staff and to the people affected by the    services  they manage.

The Award
This prestigious Award is presented by The Institute of Healthcare Management, Scotland – the Country's leading membership organisation uniquely dedicated to the professional development of healthcare managers.
The three finalists will be invited to the IHM Scotland Annual Conference Awards dinner on 6th October 2016, at which Scotland's Top Healthcare Manager 2016 will be presented with an Award. In addition to the Award, the winner will also receive a year's complementary membership of the Institute with all the benefits which that entails.
The winner and runners-up will also be featured in 'IHM Scotland's Weekly Update', which is published online by IHM throughout the UK, with articles illustrating best practice case studies based on their nominations.
This year's Award is sponsored, once again by Capita Health and Wellbeing.

Eligibility
This Award is open to all staff in managerial and leadership positions (from all professional backgrounds) employed by Health Boards or within Health and Social Care Partnerships in Scotland, to all Practice Managers in Scotland and to all other managers working exclusively within health and care services and practicing in Scotland. Nominees do not require to be Members of the Institute.

Nomination
Anyone can nominate a Manager for this Award. The nomination forms are linked below. Judges must be able to clearly discern from completed forms evidence of how the nominee meets the selection criteria.
In addition to submitting evidence in support of their nominee, nominators should also provide their own name and contact details and how, and in what capacity they know the person they are nominating.
Nominations, including submission of any supporting evidence, should be made as soon as possible. Submission should be made by e-mail, to Martin Hill, Secretary, IHM Scotland at martin.hill@ihmscotland.co.uk

Selection
All nominations shall be considered by a panel of eminent leaders in the field appointed by IHM Scotland, including:-
John Burns, Chief Executive, NHS Ayrshire and Arran
Maxine Jones, Winner of Top Healthcare Manager Award 2015
Niall Thomson, Director, Capita Health and Wellbeing
IHM Scotland's decision will be final. There is no alternative cash prize.
Download the nomination form here
Nominations should be submitted as soon as possible and no later than the closing date of Monday 22nd August 2016.