Borders Joint Health Improvement Team is a joint team across Scottish Borders Council and NHS Borders. Currently based in the SBC Headquarters in Newtown St Boswells we provide a specialist health improvement service for the whole of the Borders which includes the Scottish Borders Council, NHS Borders, voluntary organisations, local businesses and the community. Health Improvement
The Joint Health Improvement Team contributes to cross cutting themes of early intervention, prevention, tackling inequalities and building community capacity for health and well being.
Our specialist staff come from a variety of backgrounds including community learning, nursing, teaching and the voluntary sector where they have gained experience elsewhere before joining the team.
Health Improvement – What do we mean?
Health improvement means:
'Better health for everyone and a narrowing of the health inequalities gap'
Our understanding of health is informed by the model below which illustrates how an individuals health is influenced not solely through lifestyle choices (e.g. what we eat or drink) but by the wider social environment and circumstances in which we live.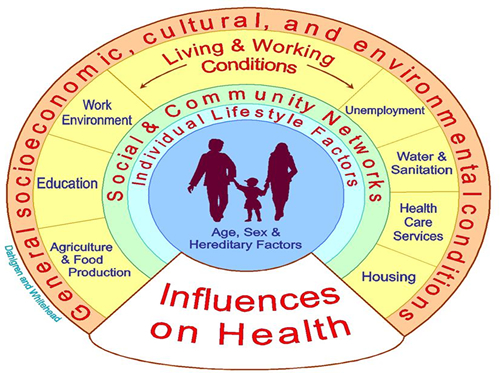 The potential reach of health improvement is therefore very wide; however,  work is informed by national policy drivers and local priorities. achieving  objectives of health improvement is through the following core functions:
Strategic planning: to identify and address local health improvement priorities in partnership to improve health and reduce inequalities.
Capacity building and training: to support services and partners in achieving health improvement outcomes. For example, we can provide training, guidance and facilitation for organisations, communities and groups.
Delivery of effective health improvement programmes:  lead, manage and evaluate a number of health related projects in different topics and settings,  with different target groups and also supporting partners' programmes and initiatives.
Resources: we have a small resources and leaflets service which is accessible to people living and working in the Scottish Borders.
Core Work Areas:
Communities
Children and Young People
Food and Health
Mental Health
Sexual Health
Tobacco
Physical Activity
Inequalities
Equality and Diversity
Resources & Training Specific to Early Years:
Play @ Home: The play@home programme is aimed at the parents and carers of children from birth to five years old and encourages them to help the development of children through the use of exercise and physical activity. The programme consists of three books that are issued consecutively to parents, covering from birth to one, one to three and three to five years. The Baby and Toddler books are delivered by Health Visitors and the Pre-school book will be available from 2013. The books provide ideas on play, movement, communication and bonding.
Weaning Toolkit: a resource for health professionals and early years workers to facilitate either 1:1 or group sessions with parents to give weaning advice and guidance. As well as information for professionals, it includes materials for families and a range of activities to help them make informed choices when weaning their babies.
Weaning Guidance updates: any new Scottish Government or Health Scotland recommendations will be monitored and added to the toolkit as appropriate.
Breastfeeding Friendly Nursery: A resource for all nurseries and early years providers. It is intended to encourage a culture where breastfeeding is seen as the cultural norm and improve the wider public acceptability of breast feeding. It contains information and guidance on making premises Breastfeeding friendly, and includes a set of children's books that show positive images of breastfeeding
Healthy Start Scheme: provides a nutritional safeguard for pregnant women and young children, particularly those on low incomes. Parents who are eligible receive weekly tokens to purchase fresh fruit and vegetables and milk. Those eligible also receive tokens for vitamin supplements during pregnancy and for babies/children aged 6 month You could qualify if you are on benefits or if you are pregnant and under 18. The Scottish Government is currently reviewing the mechanism to distribute the vitamins to eligible women via community pharmacies and dispensing practices (as of April 2012)
Guidelines for feeding the under 5s: (currently being updated nationally)
Child Healthy Weight:
Fit4Fun schools programme - with the whole school approach children from selected schools have the opportunity to take part in fun, educational and interactive sessions on topics such as healthy eating and physical activity. Each child receives a pack with resources and worksheets to take home after the last session.
Fit4Fun Child healthy weight 1:1 Programme - These sessions are carried out on a 1:1 basis with a Community Dietitian. The programme is currently available throughout the Borders and aims to help overweight children and their families to achieve a healthy weight. Please refer to Dietetic (paediatrics) section on how to refer.
Quit4Good - Smoking Cessation Service
Smoke Free Homes: an NHS Borders initiative which aims to reduce exposure to second-hand smoke. It encourages people to protect their families from the dangers of second hand smoke by not smoking in their home. Families are encouraged to take a Smoke Free Homes Pledge - Gold Promise to make the home totally smoke free at all times.
Contact NHS Borders Quit4Good Service on 01835 825971 for further information.
Smoking Cessation Service:  provides support to stop smoking within the local area via specialist Smoking Cessation Advisors, GP Practices and Pharmacies. Services are free and delivered by trained practitioners who will carry out an initial assessment and then provide support via group, drop-in or 1:1 sessions. Contact NHS Borders Quit4Good Service on 01835 825971 or smoking.cessation@borders.scot.nhs.uk for further information. There is also further information available on our Facebook page.
Healthy Living Network
Healthy Living Network: We provide certificated first aid training with a specific focus on babies and children, sessions are delivered in communities by the British Red Cross. Participants can sign up through their health visitor or voluntarily. We offer a range of food and health programmes including nursery healthy lunch box sessions, tots to the table and back to basics which focuses on low cost healthier family meals – all programmes are inclusive of food and health resources and information.
BiBS (Breastfeeding in Borders Support)
Local Support for Breastfeeding Parents – Giving babies in the Borders the best start in life: The BiBS (Breastfeeding in Borders Support) helps families make positive choices for their babies and young children. In the early days after having a new baby women often need extra support and guidance. Although breastfeeding is natural, it is a skill that has to be learned by both mother and baby.
There is lots of evidence to show that Breastfeeding for the first six months of a baby's life and beyond has huge benefits for both mother and baby. Breastmilk contains exactly the right balance of nutrients for babies, it is easily digested and absorbed, is instantly available, always at the right temperature and is free.
The BiBS programme is available for:
Families living in Scottish Borders
Pregnant mums thinking about breastfeeding and want to know more.
Breastfeeding mums needing some friendly support.
Women can meet or talk to a peer before and after their baby arrives.
The peers contact all breastfeeding women after they have been discharged from the hospital or following a home birth.
New parents and the volunteer work out together what support is needed and for how long.
The volunteers all live in the Borders and have experience of breastfeeding.
They have been trained in all aspects of breastfeeding including confidentiality, and have undergone PVG checks.
The support they provide is in addition to and complements the care women receive from NHS Borders health professionals.
The volunteers offer mums friendly, personal, one to one support over the phone/ in the home / at one of the groups or at a mutually agreed venue.
We also have 8 weekly run support groups across the Borders.
Further information on breastfeeding support groups is available.
For more information on peer or group support please contact your midwife, Health visitor, or Joint Health Improvement Team (01835 825970)
Contact the Joint Health Improvement Team:

Joint Health Improvement Team (Public Health)
Old School Building
Scottish Borders Council Headquarters
Newtown St. Boswells TD6 0SA
Tel: 01835 825970