Exercising regularly can make you feel better, more confident, happier, less stressed, sleep better and be more energised.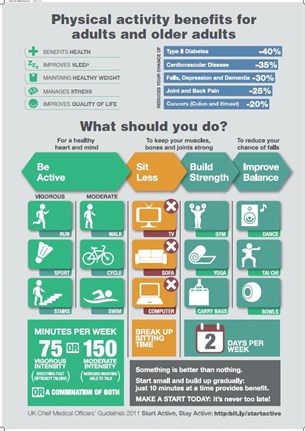 For adults walking at a decent pace for half an hour, five days a week, will do wonders for your health and fitness. Three sets of 10 minutes work just as well and may be easier to fit into your everyday life.
Children and young people aged 5 to 18 years should be active for at least 60 minutes every day.
For more information and guidelines for children under five go to the Scottish Government's website.
Check out this inspiring video called '23 and a half hours' on the benefits of being active for just half an hour a day. 

For ideas on how to be active visit:
If you are keen to make small changes and require some support, the Lifestyle Adviser Support Service (LASS) offers help and advice to people (over 16) wishing to make a lifestyle change to improve their health. For further information contact Alison Colvin, LASS administrator at alison.colvin@borders.scot.nhs.uk