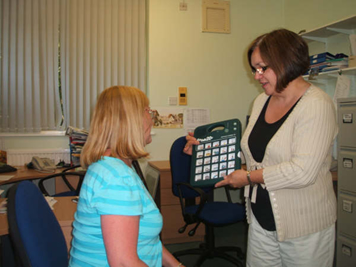 Some of our Speech and Language Therapists work with adults who have learning disabilities as part of the Scottish Borders Learning Disabilities Service.  The role of the Speech and Language Therapist in the Adult Learning Disability Service is to assess, diagnose and provide intervention, advice and written information regarding communication impairment as experienced by people with learning disabilities.  Work on communication includes: 
Foundational aspects of communication

attention
awareness of and response to people
places and routines
need/desire to communicate

 How the person communicates

pre-intentional communication
intentional communication

 Expressive skills

the words, phrases and sentences used by the person
how sounds/words are said

 Comprehension/receptive skills

understanding of people, places and routines
understanding of words, phrases and sentences
understanding of concepts and complex ideas/language

 Pragmatic/language use skills

what the person communicates
how they communicate and effectiveness of communication

 Alternative or Augmentative Communication

Understanding and use of signing
Use of High Tech communication aids
Use of symbols/photos etc
Use of objects of reference
Training is provided for carers, support staff, professionals and clients in all aspects of communication related to the person with learning disabilities communication needs.
In addition to communication work the Speech and Language Therapists are also part of the Dysphagia Multi Disciplinary Team which provides a specialised service for people with learning disabilities who have eating, drinking and swallowing difficulties.  Other members of the Team include Occupational Therapists, Physiotherapists, Dietitians, and Community Learning Disability Nurses.
The Multidisciplinary Dysphagia Team's aim is to:
Assess people's eating, drinking and swallowing difficulties
Provide intervention that may involve

provision of specialist equipment such as crockery and cutlery
advice about correct positioning
advice about fluid and food intake including the use of dietary supplements
modification of texture and consistency of foods and drinks
advice on management of safe swallowing techniques

Provide client specific training to carers and staff teams
Provide a rolling programme of 'Food for Thought' training which provides an introduction to supporting people with eating, drinking and swallowing difficulties
How to access our service
Anyone can refer directly to our service.  Health Visitors, GPs, Community Health staff and School staff refer most children and adults are usually referred by Consultants, GPs, Social Workers etc..  We also accept self-referrals.