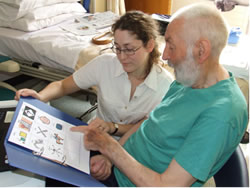 We work with adults of all ages who might have problems with:
Speaking clearly (dysarthria or dyspraxia)
Understanding speech or written words (aphasia)
Expressing themselves through speech or writing (aphasia)
Eating/drinking and swallowing (dysphagia)
Fluency (stammering)
Voice
These can arise as a result of:
Stroke/head injury
Head and neck cancer
Neurological conditions (e.g. Parkinson's, Alzheimer's)
Autistic spectrum disorders
Learning disability
Cerebral palsy
Mental health problems
We work closely with the local Chest, Heart and Stroke Scotland Volunteer Stroke Services.
How to access our services
Anyone can refer directly to our service.  Adults are usually referred by Consultants, GPs, Social Workers etc.  We also accept self-referrals.