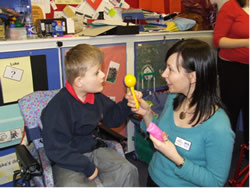 We work with children/young people (from 0-18 years) who have difficulties with:
These can arise as a result of:
Developmental delay/disorder
Autistic spectrum disorders
Learning difficulties/disabilities
Hearing impairment/deafness
Neurological conditions
Cerebral palsy
Cleft lip/palate
Chromosomal abnormalities
"See useful links section for more information about these conditions."
Nursery and Primary School Teachers – please click on this link for additional information to support language development in the classroom
Secondary School Teachers – please click on this link for additional information to support language development in the classroom.
How we work
Our service is delivered in a variety of ways. We work together with families and colleagues to support clients to maximise their communication/swallowing potential. We are committed to ensuring a shared understanding of therapy aims between therapists, families/carers and other professionals.
Interventions may include:
Assessment
Advice
Consultancy
Therapy (either individually or in groups)
Joint working with families, carers, other professionals or agencies
Training
We straddle many teams and agencies and form an integral part of the Primary Health Care Team alongside GP's, consultants, nursing staff, Health Visitors, Public Health (school) nurses.
We also liaise closely with other teams and agencies such as Lifelong Learning (Education), Lifelong Care (Social Work), Community Paediatrics and acute and community hospital staff.
Speech and Language Therapy services to children are delivered as part of the Children and Young People's Health Network. 
NHS Borders Speech and Language Therapy and Scottish Borders Council Education hold a joint service level agreement for children. An inter-agency joint management group (the Additional Needs Management Assessment Team) is currently developing integrated service provision to children with additional needs.
The Therapy Service is delivered in a variety of ways and may include one or more of the following:-
Assessment only
To contribute findings regarding communication and/or eating and drinking.
To determine whether therapy intervention is appropriate or not.
Assessment and Advice
Assessment followed by advice/consultation usually to support families and teachers to maximise the child's communication.
Direct Therapy Intervention
Therapists will work with child and families and possibly teaching staff for a block of time agreed at the outset.
Therapists will work directly with a child in an individual or group situation.
Therapist will monitor a child's progress at specific intervals for an agreed time.
All direct therapy carried out requires a 'Therapy Partner' to support it.
Indirect Therapy
 The therapist may offer a home programme of work to be completed.
The therapist may give advice and strategies to follow at home/school.
Therapist will liaise with school staff and jointly set individual targets to be achieved in the classroom.
Therapist will monitor a child's progress at specific intervals for an agreed time.
Discharge
Children are discharged from therapy for a variety of reasons which include:
The problem has been resolved
The problem has improved to an acceptable level
SLT input for the child is not appropriate at the that time
Failure to attend appointments.  NHS Borders has a strict policy about failure to attend appointments. If you fail to attend appointments without contacting us, your child will be discharged from the service.
Re-referral
Points to consider prior to re-referral
Has anything significant changed since the child was discharged?
Have the child's Speech and Language abilities deteriorated?
Have new Speech and Language difficulties become apparent?
Please note: if nothing has changed since the decision to discharge from the service, then acceptance of a re-referral is unlikely.
N.B. Sometimes children's communication needs are best met by those more closely involved with a child and therapists are keen to assist with training needs of families and teaching staff to support this.
Please see the First Visit Leaflet for information about your child's first appointment with the therapist to know what to expect.
How to access our service
Anyone can refer directly to our service. Health Visitors, GPs, Community Health staff and School staff refer most children and adults are usually referred by Consultants, GPs, Social Workers etc.. We also accept self-referrals.
Waiting times
Currently we are achieving the target of seeing all newly referred children and adults within 9 weeks with only a few exceptions. 
Children and adults with eating and drinking difficulties referred as urgent will be seen within 2 working days.