The CT Scanning Suite is situated on the ground floor of the Borders General Hospital. From the main entrance, walk straight ahead taking the second turn on the left, pass the X-ray Department on your right, continue through the double doors.  The CT/MRI Scanning Suite is on your right. We work to an appointed system; patients are referred from their GPs or outpatient clinics for these types of scans.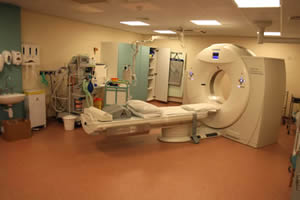 Open times for Out Patient Scanning
Monday 08:30 - 17:00
Tuesday 08:30 - 20:30
Wednesday 08.30 - 20:30
Thursday 08:30 - 17:00
Friday 08:30 - 17:00
Saturday 10:30 - 14:30
Sunday 10:30 - 14:30
The nearest baby changing facilities are located within the disabled toilet close to reception in the Radiology department.
What is a CT scan?
CT scanning uses x-rays and special detectors which circle the body taking views from all angles to build up a picture of every type of tissue in detailed slices.  These images viewed on a TV monitor help the radiologist to reach the correct diagnosis.
The CT scanner assists in the diagnosis of any health problems at an early stage which can help your doctor decide on the best treatment for you.
The scan takes between 5 and 30 minutes depending on which part of the body is to be examined.
Preparation
We will send you any information about how you should prepare for your scan. Please continue with any prescribed medicine unless you have been told otherwise.
If we are examining your abdomen or pelvis, please wear clothes that contain as little metal as possible, for example a soft tracksuit without zips.  Alternatively, we can provide a gown (changing cubicles are available with facilities for the disabled).
No children should attend with you for a C.T. scan.
When you arrive for your scan
Please report to the receptionist in the CT Scanning Suite on your arrival.  A radiographer will explain the procedure, allow you time to change if required and show you to the waiting area. 
If you are having an abdominal or pelvic scan, you may be given a special drink which will help to show up your stomach and bowel from other organs, enabling clearer pictures.  The drink is taken over a period of one hour in small quantities; it is harmless and has no after effects.  You may wish to bring something to read while you wait for your scan.
During your scan
The radiographer will position you on the scanner table.  The table slides into the scanner, which is open at both ends and looks like a giant doughnut.  The radiographer will then go into a separate control room.  The radiographer will be able to see and hear you from the control room.  The radiographer can talk to you through an intercom system.
It is very important that you keep very still and try to relax during your scan. You will not feel anything, but will hear the noise of the scanner as it moves around you.
If we are scanning your chest or abdomen, we may ask you to place your arms above your head to get a better picture.  You also may be asked to hold your breath for short periods of time.
If the patient is a child it is advisable that no other children or pregnant women attend with them for their examination. You will be able to stay with your child if necessary for their examination if you wear a lead apron and are not pregnant.
Please note we ask all females over the age of 12 the date of their last period to comply with ionising radiation regulations. (IR(ME)R 2000/2006).
After your scan
Once the examination is over and the images have been checked to ensure we have all the information we need, you will be able to go home.  Your scans are stored by us for future reference.
Results
Your results will be sent to your doctor who asked for the CT scan.  If this was your GP please arrange a follow up appointment with your doctor to discuss the results.  Please allow 7 to 14 days between the CT scan and your follow up appointment.  Unfortunately the CT Scanning Suite cannot issue results directly.
Pregnancy
As the CT scanner uses x-ray technology there is a risk that a developing foetus could be harmed.  Therefore if there is any possibility that you may be pregnant, please phone our receptionist on 01896 826432 before your appointment date.
We aim to make your experience with us as stress free as possible.  For any further information or questions regarding these services please contact the department on: 01896 826417 or alternatively complete our online contact form.