Where are we: 
Ground floor BGH within the Radiology department
About our service:
Fluoroscopy is a radiological technique, which gives a real time video image on television monitors.  It is useful for seeing dynamic bodily functions, such as the swallowing action.  We use a range of dyes which can be drunk or introduced through a variety of catheters depending on the part of the body.  Your examination will either be done standing up or lying on the table.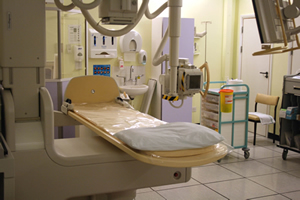 How long will it take?
This is a difficult question to answer as we are examining so many different parts of the body and we are often controlled by the speed of the patient's body.  Your information leaflet should give you an estimate of time.
No children should attend with you for a fluoroscopic examination.
Can I eat and drink normally after the test?
Yes, following most examinations normal eating can be resumed, however following a Barium test we encourage drinking more fluids for a couple of days.
When will I get the results?
Your referring doctor should get the results within 7-10 days.  You will be given a letter that explains this when your examination is finished.
Some of the procedures performed
Athrograms - looking at joint spaces
Barium Swallows - looking at the oesophagus
Barium Meals - looking at the stomach
Barium Follow Through - looking at the small bowel
Barium Enema - looking at the large bowel
Cystograms - looking at the bladder
Linograms - looking at lines used for chemotherapy
Slalogram - looking at salivary glands
Nephrostomy - an interventional procedure used to treat an acute kidney problem
Videofluoroscopy - looking at the swallowing process
Please make us aware if there is any chance you may be pregnant.
Please note we ask all females over the age of 12 the date of their last period to comply with ionising radiation regulations. (IR(ME)R 2000/2006).
If your child requires a fluoroscopic examination it is advisable that no other children or pregnant women attend with them for their examination.
It is useful to bring small toys and books with you to amuse your child while waiting for fluoroscopy. Snacks are useful too but better kept for after the examination.
For any further information or questions regarding these services please contact the department on: 01896 826417 or alternatively complete our online contact form. 
Staff List:
Fiona Hawke - Superindent Radiographer
When are we open: 
08:30 - 17:00 Monday to Friday
How to contact us:


01896 826417
GeneralRadiology.enquiries@borders.scot.nhs.uk